Overview
Holly and Banderas
Volcanic has aquired an option on a large land position in Eastern Quatemala from Radius Gold.
World class gold silver terrain
Compelling projects
Huge regional land position
Multiple high grade targets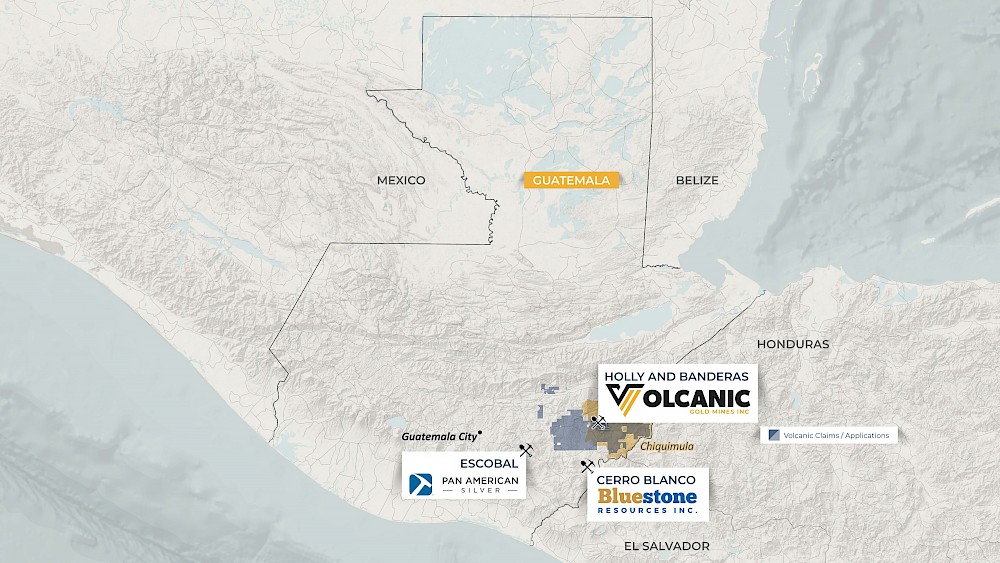 Project History
Initial discoveries by Radius Geologists in 2002/3
Several shallow drill programs conducted during next 36 months
Extensive high-grade drill intercepts indicate potential. Weak gold market halts exploration
Started drilling again on property package in April 28, 2021, before that no drilling since 2006
In 2007 Goldcorp makes Escobal world class silver discovery 20 km's away
Multiple targets open for expansion or are untested by drilling
240,000 Hectare Land Position
10,000 data point proprietary geochemical data base
Large number of anomalies never followed up
Potential for new discoveries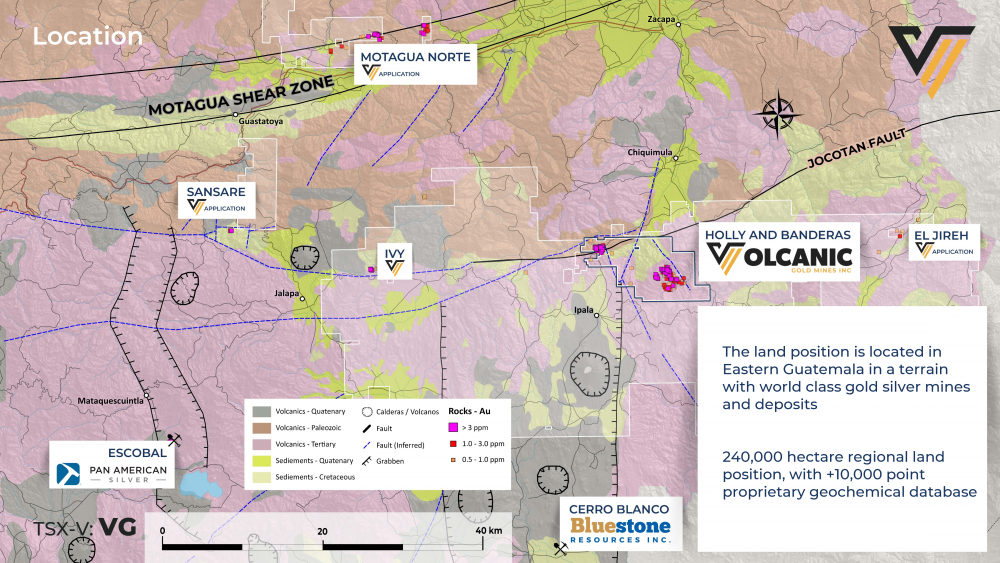 Terms of Guatemala option
The Company has acquired an option on a large land position in Eastern Guatemala from Radius Gold Inc.
Volcanic can earn a 60% interest in the Holly and the Banderas projects by spending the cumulative amount of US$7.0 million on exploration of the Properties within 48 months from the date of the agreement.
An initial US$1M must be spent on exploration within the 12 months of receiving the required drill permits, which expenditure will include a minimum 3,000m of drilling on the properties.
Following the exercise of the Option, Volcanic will enter into a standard 60/40 Joint Venture in order to further develop the Properties.
Volcanic has also been granted an exclusive right to evaluate all other property interests of Radius in Guatemala with a right to acquire an interest in any or all other such properties on reasonable terms.
Volcanic is actively looking for new projects, with a focus on discovering multi-million ounce gold resources in underexplored countries. If you have an interesting project to submit, please contact us by email: info@volgold.com